Wednesday, May 29, 2019 / by Michael O'Neal
HOUSTON — (May 8, 2019) — Lower mortgage interest rates, improving oil prices, steady economic growth and a more plentiful supply of housing translated to a strong month for home sales throughout greater Houston in April. Luxury homes (priced at $750,000 and above) drew the greatest volume of sales followed closely by homes in the $150,000 to $250,000 range. Housing inventory grew to its highest level since last September, keeping up with consumer demand midway through the spring buying season.
According to the latest monthly report from the Houston Association of Realtors (HAR), sales of single-family homes increased 7.8 percent in April, with 7,586 homes sold compared to 7,035 in April 2018. That marks the third straight month of positive sales and the biggest volume gain of 2019. On a year-to-date basis, home sales are 2.2 percent ahead of last year's record pace.
Single-family homes prices reached record highs for an April. The median price (the figure at which half of the homes sold for more and half sold for less) rose 2.1 percent to $245,000 and the average price was up 1.9 percent to $310,676 – the second highest average of all time.
April sales of all property types totaled 9,063, up 7.8 percent compared to the same month last year. Total dollar volume for the month jumped 9.6 percent to about $2.7 billion.
"Consumers have been taking advantage of optimal conditions for homebuying, with low interest rates and a growing supply of properties, and that has powered Houston to a strong springtime performance," said HAR Chair Shannon Cobb Evans with Heritage Texas Properties. "The rental market also remains healthy, and we're relieved to see sales finally turning around among townhomes and condominiums."


April Monthly Market Comparison
The measurements were all in positive territory for the Houston real estate market in April. Single-family home sales, total property sales, total dollar volume and pricing were all up compared to April 2018. Month-end pending sales of single-family homes totaled 9,467, a 17.8 percent increase over last year. Total active listings, or the total number of available properties, jumped 13.8 percent to 42,086.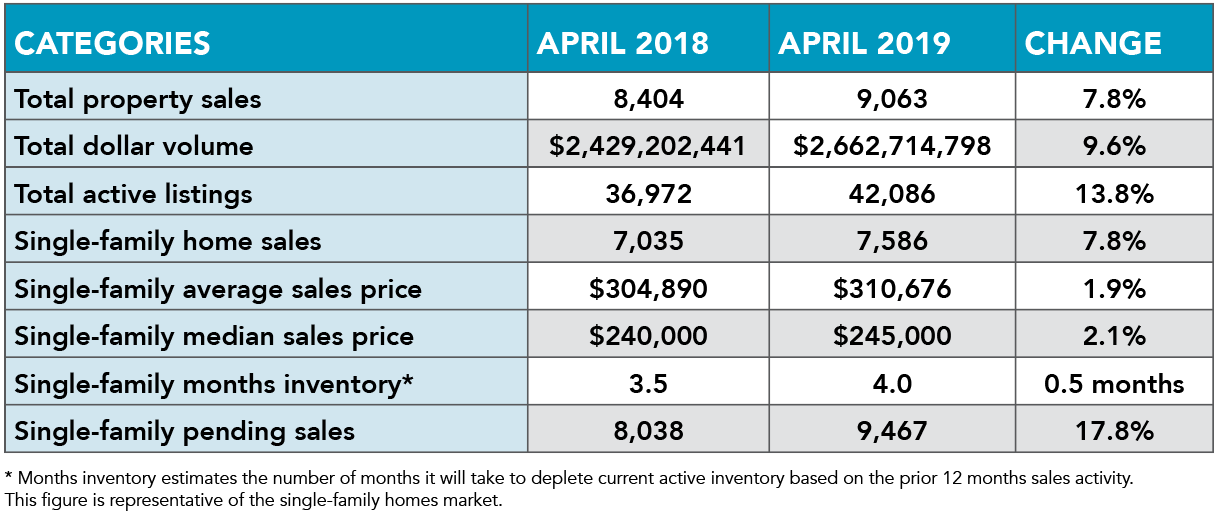 Single-family homes inventory expanded to a 4.0-months supply in April. That is up from 3.5 months a year earlier and marks the greatest supply of homes since September 2018. For perspective, housing inventory across the U.S. is currently at a 3.9-months supply, according to the latest report from the National Association of Realtors (NAR).

Click here to continue reading the full article.